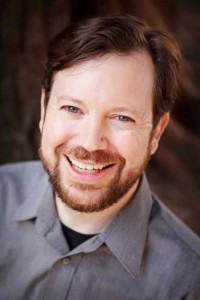 DR. ANDY JONES
Andy Jones has taught for the English Department and the University Writing Program since 1990. Originally trained as a poet and interpreter of poetry, Andy has taught classes at UC Davis on TS Eliot, the Poetry of the Beat Generation, and Close Reading of Poetry, as well as the Advanced Poetry Writing Workshop. As a Lecturer in the University Writing Program, Andy enjoys teaching pre-professional writing classes, and counts among his favorites "English for Educators: Advanced Writing for Future Teachers" (also known as UWP 104D), Writing for Publication: Journalism, and Writing in Fine Arts. The originator of "TCS 191: Writing Across Media," Andy has taught that class for the Technocultural Studies Program every winter since 2005. Andy was named "Educator of the Year" by the Associated Students of UC Davis in 2006.
Formerly coordinator of the University Writing Program's Computer-Aided Instruction Program, Andy loves to teach in computer classrooms. From 2005 to 2011 Andy coordinated the Faculty Mentoring Faculty Program and co-coordinated the Summer Institute on Teaching and Technology, both sponsored by the Center for Excellence in Teaching and Learning. In 2008 Andy gave the Plenary Presentation at the Annual Meeting of the University of California, Office of the President, President's Postdoctoral Fellowship Program, and in 2009 and 2010, Andy joined a delegation of faculty that provided faculty development at the Nara Institute on Science and Technology in Nara, Japan.
In the summer of 2011, Andy was named the Academic Director of Academic Technology Services at UC Davis. In that capacity, he oversees the Faculty Support Group (in charge of supporting faculty use of SmartSite), and hosts meetings of the DOLCE Program (Discussing Online Learning and Collaborative Education) and the Faculty Panels on instructional technology. Dr. Andy also edits The Wheel, the instructional technology blog for UC Davis.
Committed to outreach and encouraging cross-disciplinary thinking, Andy serves as faculty advisor to The Voice, the campus Undergraduate Health Journal; works with undergraduate creative writers as the faculty advisor to Nameless Magazine, the undergraduate journal of creative writing at UC Davis; speaks before groups of students assembled by Student Advising, the McNair Scholars Program, Professors for the Future, and the UCD Medical School's Post-Baccalaureate Program; and hosts "Dr. Andy's Poetry and Technology Hour" on radio station KDVS. A listed campus expert on social media, Andy frequently contributes to Insight with Beth Ruyak on Capital Public Radio, and is frequently interviewed on social media topics ABC-affiliated television stations in Los Angeles, San Jose, and San Francisco, and on poetry and writing topics for the British Broadcasting Corporation and the Oprah Winfrey Show. He also irregularly publishes essays in The Sacramento Bee.
Dr. Andy's recent publications include an essay on Beat Art and Poetry in Lifescapes Magazine, a book chapter on teaching with Twitter, poems in small magazines and journals, and a book of poetry, Split Stock, that Andy co-authored with Writing Program colleague Brad Henderson. His most recent book of poetry, Where's Jukie?, was published in 2014. Currently Andy is working on a new poetry book, Tentacle, and enjoys hosting the Poetry Night reading series at the John Natsoulas Gallery on the first and third Thursdays of the month. Andy lives in Davis with his wife, Kate, and their three children, Geneva, Jackson, and Truman.
Dr. Andy was named the Poet Laureate of the City of Davis in September, 2014.
Find Andy on Twitter at http://www.twitter.com/andyojones.
"Fine art is that in which the hand, the head, and the heart of man go together." ~John Ruskin